Mediterranean Sea Bass
a.k.a. Branzino
Dicentrarchus labrax
A delicious, mild white fish with a moderate texture that is a center of the plate feature in many Mediterranean seafood cuisines. Mediterranean Sea Bass also boasts 3X the Omega 3's of many other popular species such as Cod, Haddock, and Tuna!
---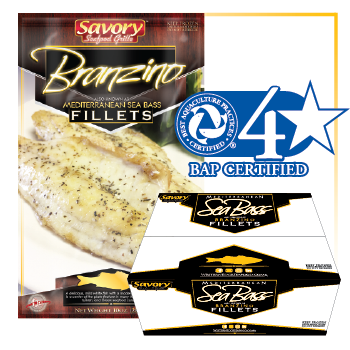 ---
Opportunity Through Innovation
Mediterranean Seabass (Dicentrarchus labrax) has been highly regarded as a table fish in Europe for many years and in recent years has gained a consistent following in the USA, mostly as a fine dining whole or butterflied fish preparation. The fish also known by its Italian name "Branzino" has been featured in dozens of recipes and mentions on the Food Network, which in turn has rapidly increased its name recognition.

Western Edge has partnered with an aquaculture and processing operation farming in the Mediterranean Sea to bring a frozen fillet option for food service. The addition of IVP fillets to the marketplace adds both convenience and lower cost aspects to what has so far been only a very "high-end" fish. We are working to make Mediterranean Sea Bass a practical and viable option for menus with consistent portion control, stable pricing, and continuous supply that can only be achieved in the frozen supply chain.
---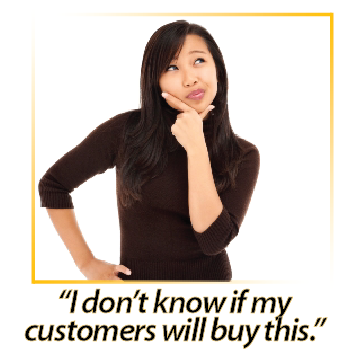 ---
An Approachable Exotic
With Branzino now available in frozen fillet form, it makes it easy for retail consumers to take home and prepare this high end restaurant species for their dinner tables. The price per pound on frozen is much more reasonable, and the clock won't be ticking on the shelf life of the fish. There is a simple ingredient recipe on the bag that will promote cooking success, which will create repeat sales. This will especially appeal to millennials looking to prepare something "different" or "exotic" to post on social media. Our product is also 4 Star BAP and Global G.A.P. certified for buyers concerned with good aquaculture practices.

Branzino fills a need for foodservice and retailers as a premium species with comparable affordability to halibut, mahi, tuna, barramundi, and others. Areas that are most conducive to seafood should already have some knowledge and following of this species in fresh form, but can realize the benefits of its convenience in frozen fillet form.
---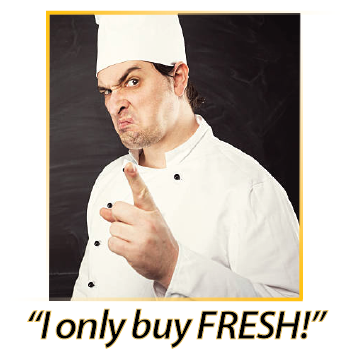 ---
Is Frozen Fresher Than Fresh?
This species has always been a product that was brought in fresh, typically in whole or butterflied form. Off the knife pricing is historically in the low to mid teens per pound. Bringing Branzino in frozen fillet form saves $4 to $5 per pound in cost off the knife, as well as savings in freight costs. Air freight is necessary to ship fresh whole round Branzino in, as in fresh form it only has approximately a 14 day shelf life, and air freight is far from cheap.

Frozen Branzino has a much longer shelf life, less onsite labor to prepare the fish, and larger scheduled production with less risk. The time it takes to harvest, process, and freeze the Branzino is less than 2 hours, so from a food safety perspective frozen has much less time to oxidize and deteriorate in comparison to fresh.

Chilean Sea Bass is a great example of a high end fish that transitioned into frozen, as it is one of the most popular species in high end restaurants, and has successfully transitioned into a mainly frozen product accepted as a refreshed item. Branzino is a farm raised species, making it available year round, and it freezes very well, so it can easily be used as a refreshed item.
---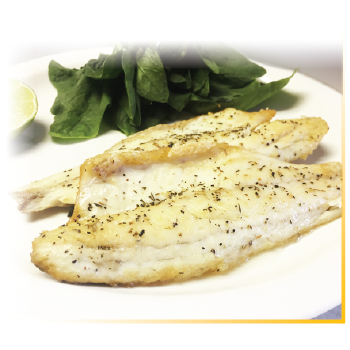 ---
Mediterranean Sea Bass or Branzino?
They are one in the same, but it seems that different areas like to call it different things based on what it is known as locally. All of our packaging carries both names so that there is no issue with the namesake.

Mediterranean Sea Bass may do better with consumers that are familiar with the Chilean Sea Bass name, whereas Branzino will be more familiar with those who frequent white table cloth establishments or are considered "foodies".
Product Forms:
Fillets, Retail Bags (12oz/10oz.)
Alternative Keywords:
Sea Bass, Branzino, Bronzino, Bronzini, Mediterranean, Turkey, Italy, Spain